與肌膚及頭髮相襯的自然色澤。以眉粉創造自然柔和眉型。雙種色澤,深淺自由調配。
富層次感的啡色微細粒子,運用深淺色調令眉毛做出立體妝容,雙色雙調的化出立體自然眉妝。
●HOW TO USE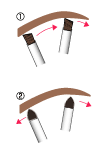 1. Apply the lighter shade from the arch of your eyebrow to the outer end and then apply once more to the whole of the eyebrow.
2. Gradually apply the darker shade to the outer end of the eyebrow and then smudge any remaining powder towards the part of the eyebrow closest to your nose.

Use the lighter shade alone for soft, smoky-looking eyebrows like peach fuzz. Mix the two shades to create a color that matches your natural eyebrow color. Use both to provide greater definition through natural variations in shading.