You've outgrown brown!
Move on to shades inspired by Japanese sweets
and enjoy a flood of compliments.
Azuki bean red blends in with your eyes. Matcha green is utterly stylish.
Which color do you want to try?
時尚低彩度『抹茶眼影』! 日雜熱烈討論
都會女子必備綠色系眼影
超人氣 #舒芙蕾眼彩組 最新推出限定色 #09卡其褐
濃濃抹茶
上眼就有高級感 特調
卡其配色 自然又時尚
都會高冷V.S.清新質感 可鹽可甜好駕馭
舒芙蕾質地 柔軟好上色
高顯色度 珠光細膩
不飛粉、不脫妝
2021秋季限定新品即將上市 !
敬請期待
抹茶眼妝』
#舒芙蕾眼彩組 最新限定色 #09卡其褐
#激細滑順眼線膠筆 最新限定色 #08卡其綠
『赤豆眼妝』
#舒芙蕾眼彩組 人氣常規色 #06煙燻粉
#激細滑順眼線膠筆 最新限定色 #07紅褐色
哪一個才是你的秋季命定眼妝?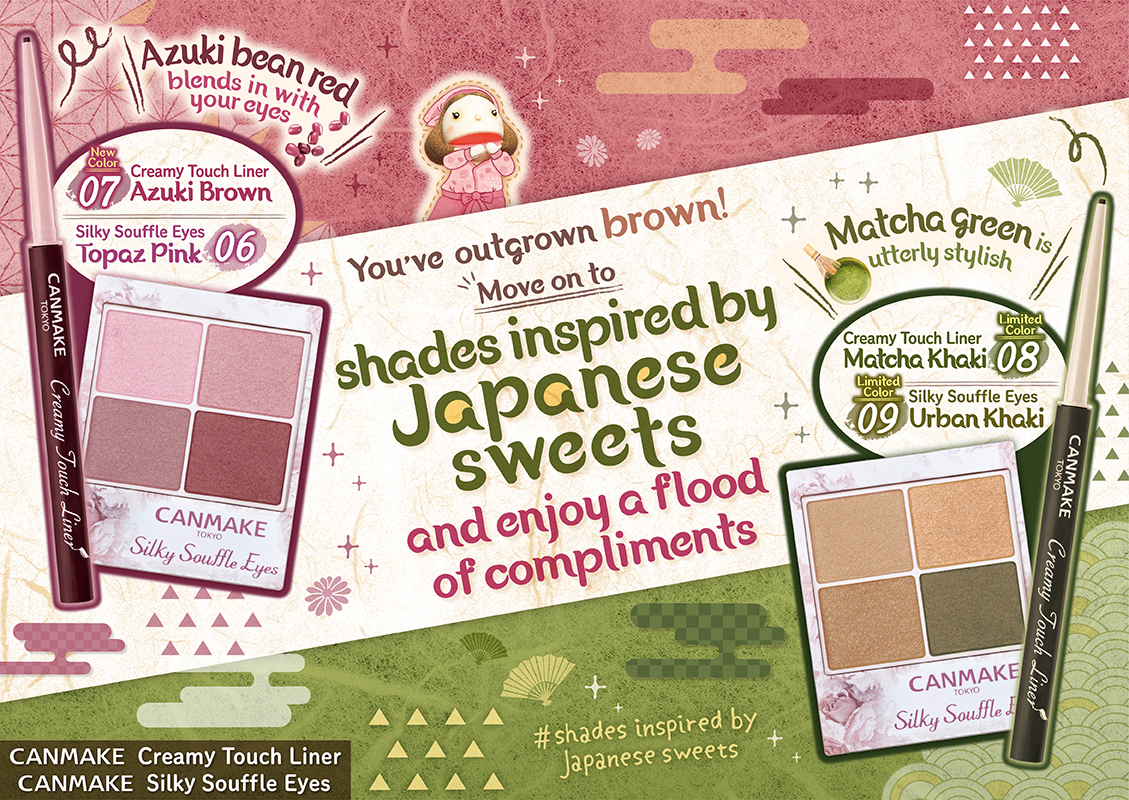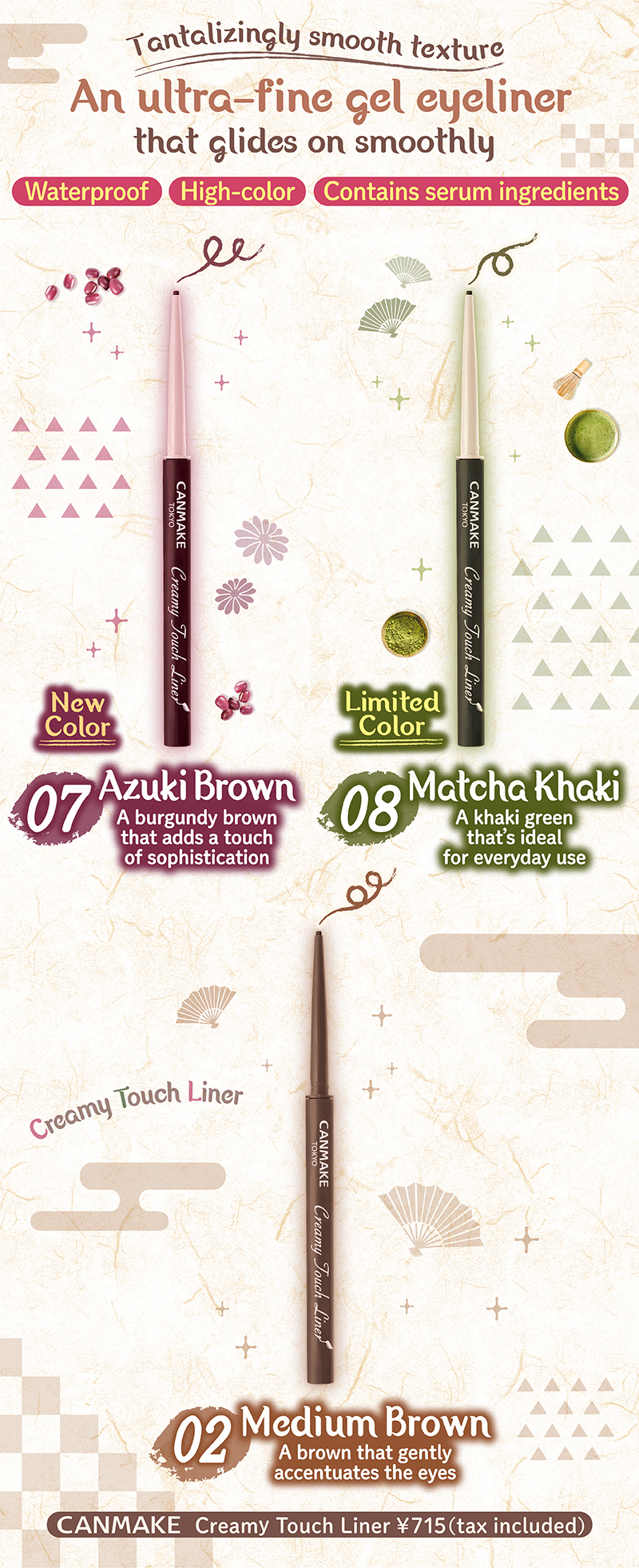 Tantalizingly smooth texture.
An ultra-fine gel eyeliner that glides on smoothly.

★Waterproof
★High-color
★Contains serum ingredients

CANMAKE
Creamy Touch Liner


New Color
07 Azuki Brown
A burgundy brown that adds a touch of sophistication.

Limited Color
08 Matcha Khaki
A khaki green that's ideal for everyday use.

02 Medium Brown
A brown that gently accentuates the eyes.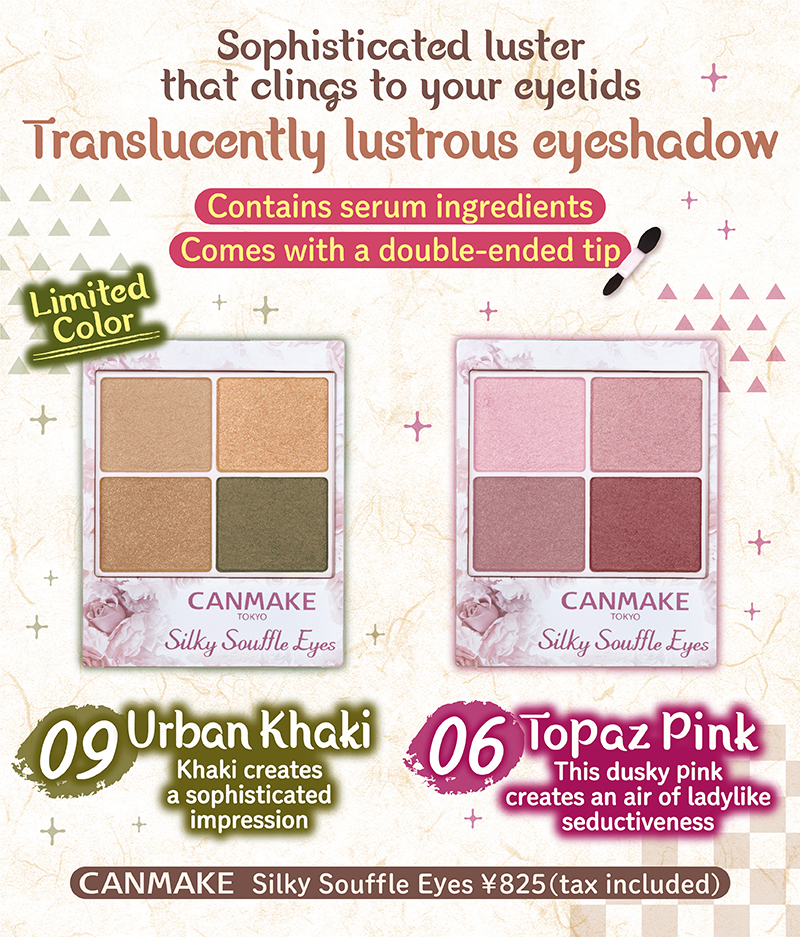 Sophisticated luster that clings to your eyelids Translucently lustrous eyeshadow.
★Contains beautifying ingredients
★Comes with a double-ended tip


CANMAKE
Silky Souffle Eyes
Limited Color
09 Urban Khaki
Khaki creates a sophisticated impression.

06 Topaz Pink
This dusky pink creates an air of ladylike seductiveness.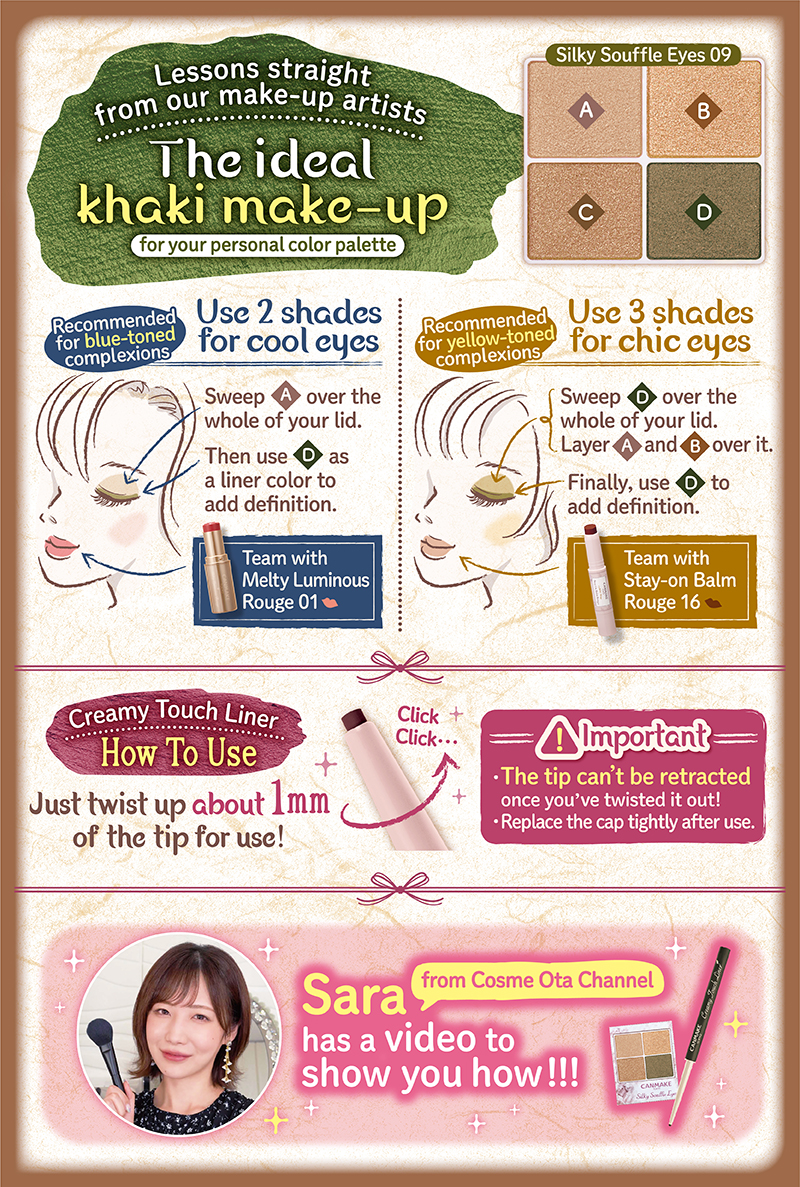 Lessons straight from our make-up artists!
The ideal khaki make-up for your personal color palette.

Recommended for blue-toned complexions!
Use 2 shades for cool eyes

Sweep A over the whole of your lid.
Then use D as a liner color to add definition.
Team with Melty Luminous Rouge 01????♡


Recommended for yellow-toned complexions.
Use 3 shades for chic eyes

Sweep D over the whole of your lid.
Layer A and B over it.
Finally, use D to add definition.
Team with Stay-on Balm Rouge 16????♡

Creamy Touch Liner How To Use
Just twist up about 1mm of tip for use!

~Important~
・The tip can't be retracted once you've twisted it out!
・Replace the cap tightly after use.
Sara from Cosme Ota Channel has a video to show you how!!!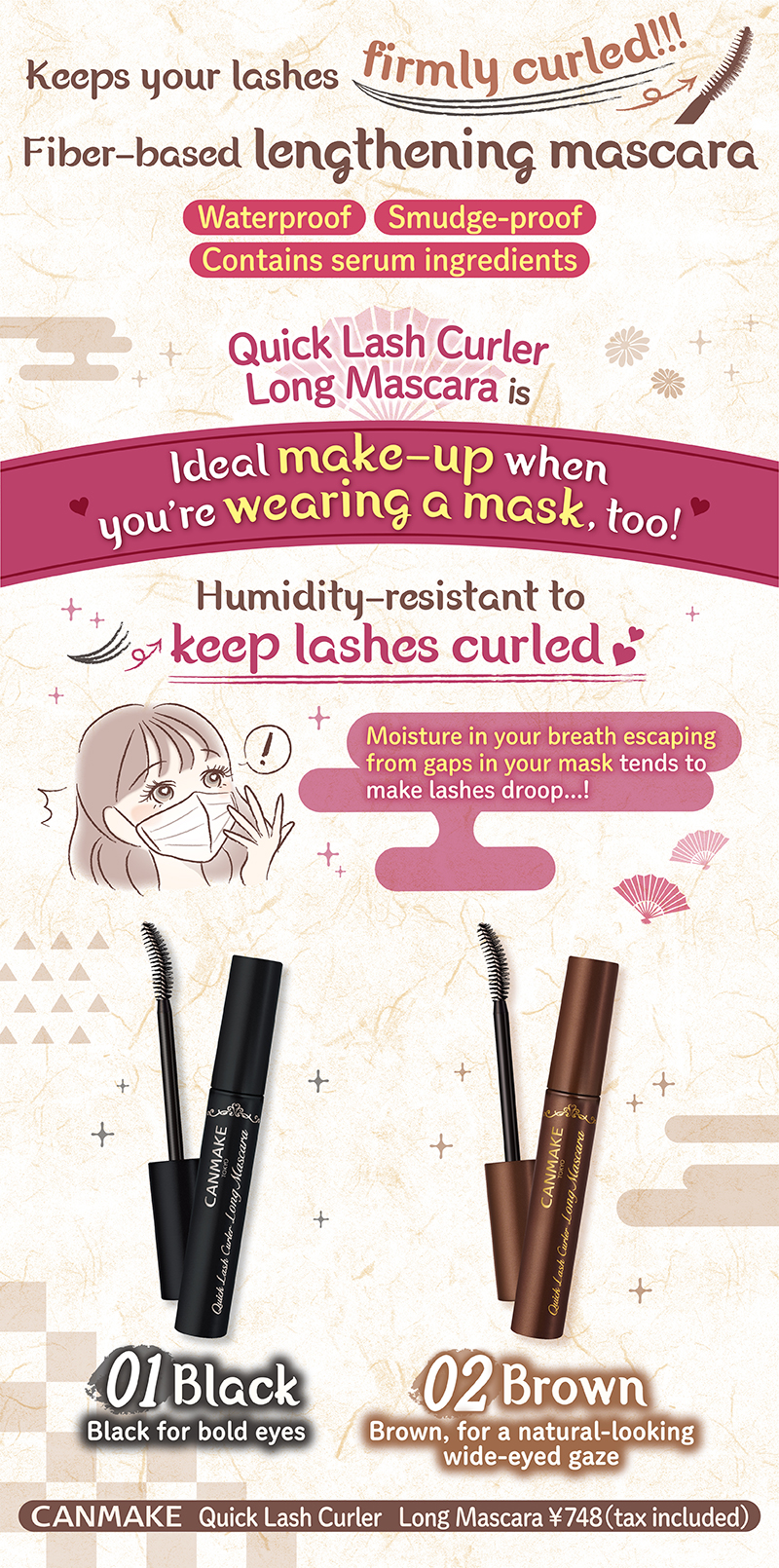 Keeps your lashes firmly curled!!!
Fiber-based lengthening mascara.

★Waterproof
★Smudge-proof
★Contains beautifying ingredients

Quick Lash Curler Long Mascara is
Ideal make-up when you're wearing a mask, too!
Humidity-resistans to keep lashes curled♡
Moisture in your breath escaping from gaps in your mask tends tu make lashes droop...!!

CANMAKE
Quick Lash Curler Long Mascara ¥748(tax included)01 Black
Black for bold eyes.

02 Brown
Brown, for a natural-looking wide-eyed gaze.