Forms a glossy film to lock your lip color in place ❤
JUST ARRIVED, TAKASHIMA 高島生活館門市首賣 爆量銷售!!
10/01 -10/20 上市銷售 RECORD BREAKING SOLD !!
超級!超級好用!!強力推薦!No Regret!
5分鐘打造美唇 完美水油比例塑造光澤唇妝
持久唇色 水潤保濕
- 獨特配方令唇彩色素隨著時間緊貼於櫻唇表面*,即使用餐後色彩依舊,同時減少色彩轉移到杯子或餐具之上的尷尬情況。
- 高貼合配方,令唇彩瞬間與雙唇融為一體,締造持久迷人的極致水漾亮澤妝效。
- 質地舒適輕盈,不黏不膩如空氣般無重質感,溫和包覆雙唇,避免頭髮黏在唇上的尷尬情況發生。
- 蘊含有9種保濕成分,可防止嘴唇乾裂,時刻保持唇妝完美無瑕。
水油合一 凝亮光澤
- 含有1:2的水油完美比例,唇彩隨時間推移,油分於雙唇表面形成光澤薄膜,光澤感愈加耀眼。
- 引人注目的高濃度色彩能有效調節及美化膚色,令膚色看來更加明亮。
- 使用時,可因應需要而隨意疊加以調整顏色的濃郁度,達至心目中的理想唇妝效果。
- 細長型唇掃令唇彩呈現更均勻的色彩效果,誘發樂趣無窮的唇彩體驗。
*色彩定型時間因人而異,建議塗抹後至少等待5分鐘。
限定!No. 01 Antique Rose 古典玫瑰:優雅的紫紅色
限定!No. 02 Cinnamon Apple 肉桂蘋果:帶米色調的紅色,營造出明朗的形象。
限定!No. 03 Orange Brûlée 法式燉蛋:橘棕色,只需一層即可塑造型格妝感。
2021.05.31 商品情報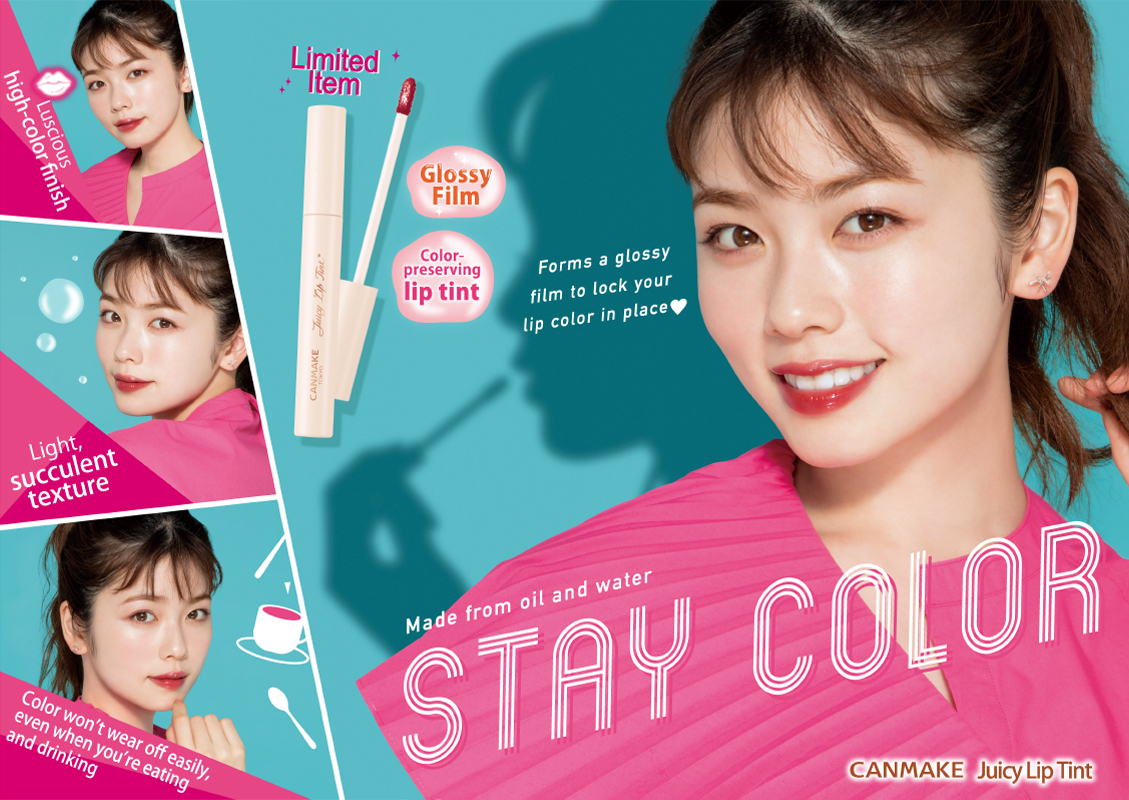 STAY COLOR

♥Luscious high-color finish
♥Light, succulent texture
♥Color won't wear off easily, even when you're eating and drinking

Wait 5 minutes* and it's done ❤
New! A lip tint made from oil and water!
*Time recommended by Canmake
The finish will vary between individuals.

How does it work?
A color-preserving lip tint made from oil and water ❤
・Oil components
・Water
・Pigment
・Moisturizing agent
・Lips (corneal layer)
*Illustration

Juicy Lip Tint is an oil-in-water formulation containing twice the quantity of oil components as water
—Immediately after application—
The water evaporates, while the moisturizing ingredients dissolved in the water and pigment penetrate right to the corneal layer!
The oil components stick to each other and to the moisturizing ingredients, forming a film[OM1] on the surface of your lips!
Contains two types of moisturizing ingredients: one type that dissolves in water (*1) and another that sticks to the oil (*2).

*1 Glycerin, BG, sodium hyaluronate, hydrolyzed collagen, ceramide NP, Prunus yedoensis leaf extract, Chamomilla recutita (matricaria) flower extract
*2 Squalane, Simmondsia chinensis (jojoba) seed oil
Luscious color
The key to its staying power: wait 5 minutes ❤

On busy mornings, we recommend you apply it before doing your eye make-up!

Lips with a flawlessly glossy, succulent film!
Lets you lock the color onto your lips!
*Illustration of finish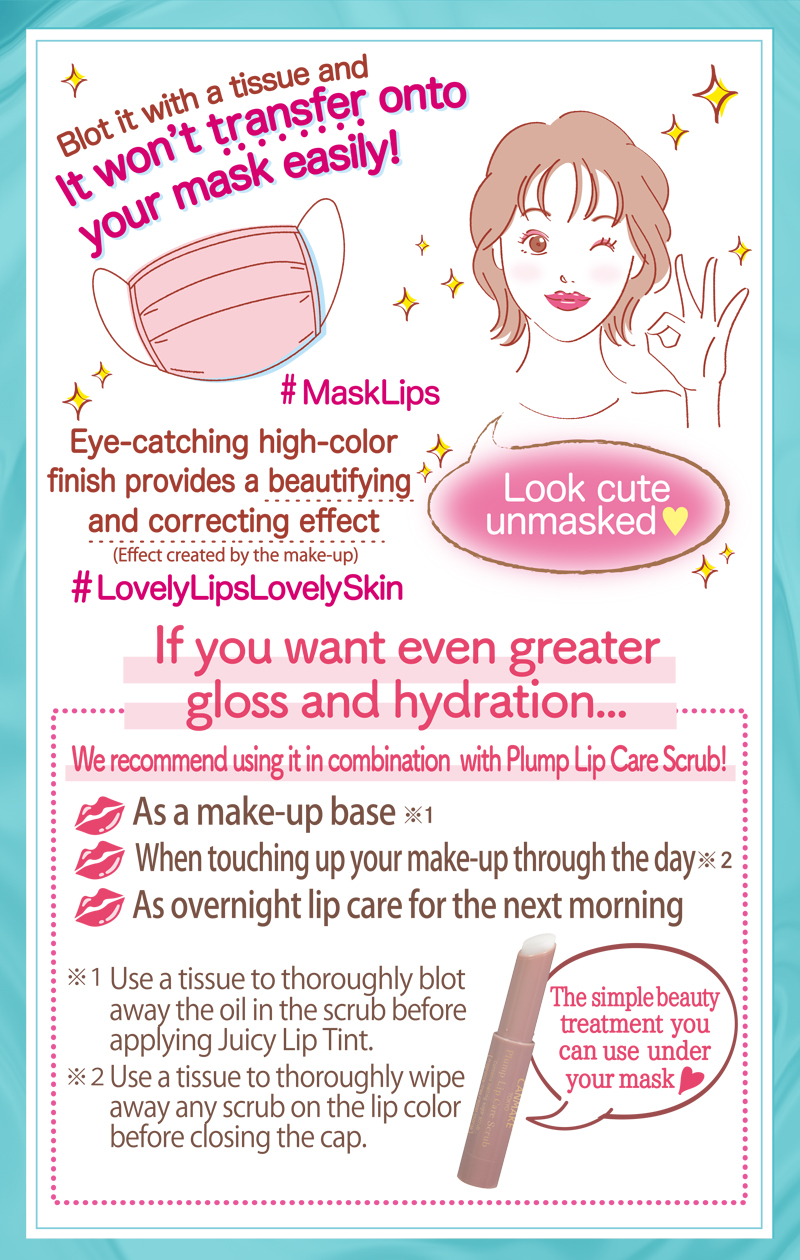 Blot it with a tissue and
It won't transfer onto your mask easily!

#MaskLips
Look cute unmasked ❤
Eye-catching high-color finish provides a beautifying and correcting effect
(Effect created by the make-up)
#LovelyLipsLovelySkin
If you want even greater gloss and hydration...
We recommend using it in combination with Plump Lip Care Scrub!
If you want even greater gloss and hydration...
We recommend using it in combination with Plump Lip Care Scrub!
As a make-up base*1  
When touching up your make-up through the day*2
As overnight lip care for the next morning
*1 Use a tissue to thoroughly blot away the oil in the scrub before applying Juicy Lip Tint.
*2 Use a tissue to thoroughly wipe away any scrub on the lip color before closing the cap.

The simple beauty treatment you can use under your mask ❤

♥Guards against chapped lips
♥Contains 9 types of moisturizing agents
♥Free from fragrance


CANMAKE
Juicy Lip Tint
【Limited Item】

01 Antique Rose 【Shade worn by model】
A mauve rose with depth.

02 Cinnamon Apple
A serene beige red.

03 Orange Brulee
Orange brown, for a stylish look with just one coat.

Hugely popular
Silky Soufflé Eyes. Now available in a new colorway!!!

A quartet of user-friendly eyeshadows

Soft, silky-smooth texture
Translucent luster

Base color A One tone brighter
Main color B Pinkish-copper creates a sweet impression
Main color C Cocoa-brown packed with pink pearl
Liner color D


Sweet copper shades
Use 08 to try strawberry-chocolate-themed eye make-up

(1) Use shades AB and D to emphasize the strawberry theme
A: Eye socket B: Eyelid fold D: Edge of the eye
Use liner color D all along the edge of the lid from the inner to the outer corner of the eye to create a look that won't appear too sweet

(2) Use all four shades for bittersweet strawberry-chocolate-themed eye make-up
Add C after following the instructions for (1)
Layer the subdued brown over the top to add a touch of bitterness to (1)
♥Contains serum ingredients


CANMAKE
Silky Souffle Eyes
【New Color】【Shade worn by model】
08 Strawberry Copper
A sweet and casual pinkish-copper.
Teams beautifully with Juicy Lip Tint 01

04 Sunset Date
A deep orange-red that enhances your femininity.