Change your make-up for a fresh look ♡
改變的力量!簡單的化妝術!獲得他人良好的第一印象!
愛打扮和重視靈魂不是兩個不能融合的對立面。它只是你熱愛生活全力經營自己的一種方式,
「活得好看」「完美親和力妝感」人見人愛!不屈的誓言,是你永遠愛美永遠懂得投資自己的必然嘉獎。
CANMAKE 全品都以最重視日本親和力東方美感設計!
好人緣"化妝法改善緣分
用化妝改善緣分聽起來很"玄",但是神采奕奕的親切的女生誰不喜歡呢?現在就讓我們來學習這一係列實用的"好人緣"化妝法吧,你會發現這是一種全新的化妝觀念哦。
Debut Make up
You can't fail to look prettier with classic colors
Make-up that creates a positive impression, without fail.

Second Debut Make up
I want to change my usual make-up
Aiming for a new me with sophisticated shades.

Which look do you prefer?Debut or second debut?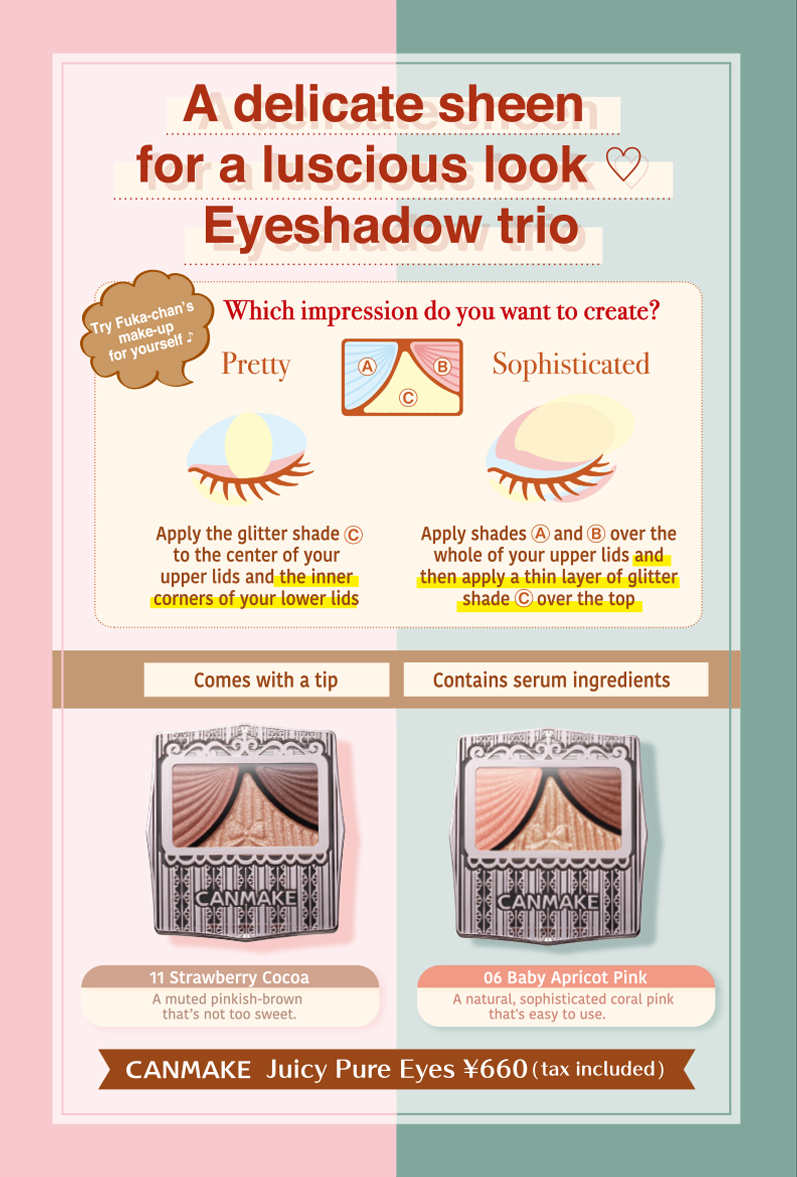 CANMAKE 奢華炫光眼彩 (11 Strawberry Cocoa)
晶瑩細緻粉末緊緊附著在肌膚上
● 彈性粉末有助於讓顏色輕巧地滑過肌膚。● 眼影含有特別保濕油成分,讓眼影更加顯色且不易掉粉。
不易掉落,讓眼妝更為持久顯色 ● 舒芙蕾眼影質地,防止粉末四散。 ● 半透明的百搭咖啡色和肌膚做完美的搭配。
A delicate sheen for a luscious look ❤
Eyeshadow trio.Try Fuka-chan's make-up for yourself ♪
Which impression do you want to create?

Pretty
Apply the glitter shade C to the center of your upper lids and the inner corners of your lower lids.

Sophisticated
Apply shades A and B over the whole of your upper lids and then apply a thin layer of glitter shade C over the top.

■Comes with a tip
■Contains serum ingredients

CANMAKE Juicy Pure Eyes

11 Strawberry Cocoa: A muted pinkish-brown that's not too sweet.
06 Baby Apricot Pink: A natural, sophisticated coral pink that's easy to use.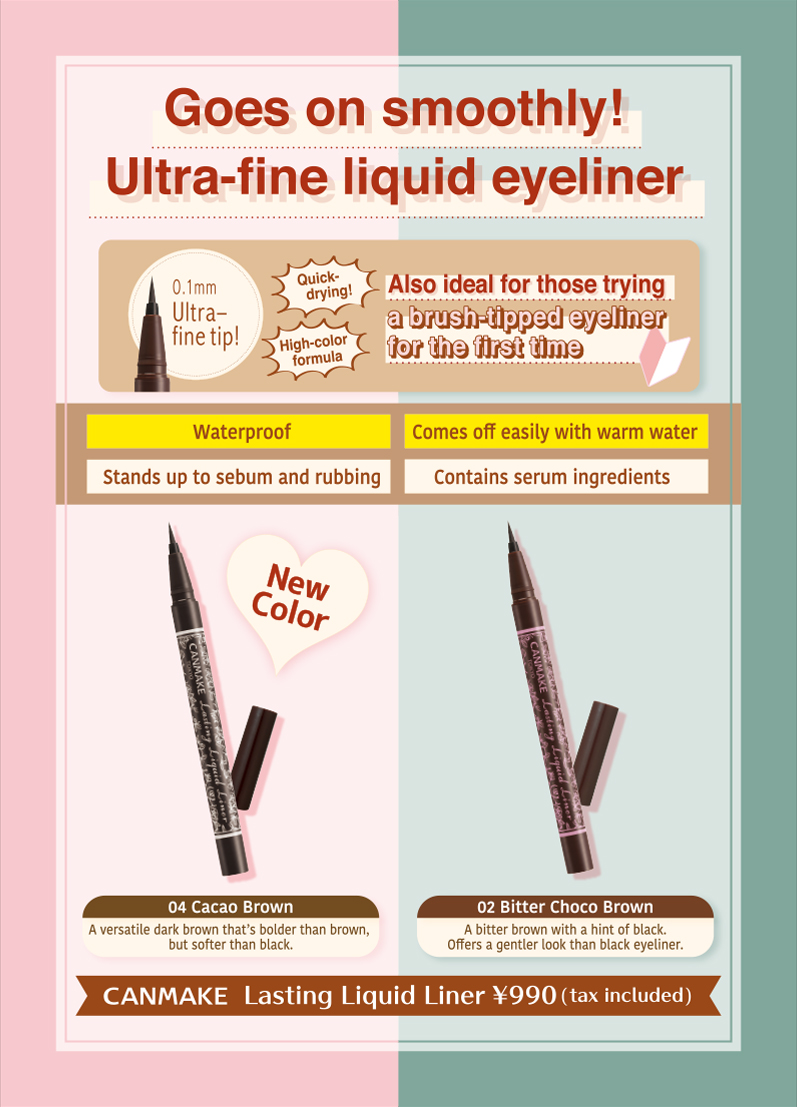 LASTING LIQUID LINER 持久全效眼線筆3大特色
1. 快乾配方 防水防油 
獨特防水聚合物營成薄膜保護眼線,可以防汗水、水份、油脂,也不懼怕揉搓而令眼線脫色。眼線筆的快乾配方,可以在畫上眼線後,馬上變乾,不用擔心眼線會溶化至眼蓋位置。即使畫上眼線後,再貼上假睫毛,也不用擔心
2. 極順滑易畫 容易掌握 
質感幼滑,可以輕易畫出粗幼眼線,0.1毫米筆尖可以輕易填畫睫毛間的空隙,令眼線更突出。 
3. 眼線色調顯著出色  
眼線筆亦蘊含高著色配方,只要畫上一次,便能營造出完美眼線 
Goes on smoothly!
Ultra-fine liquid eyeliner.

Also ideal for those trying a brush-tipped eyeliner for the first time.

■Quick-drying
■High-color fomula
■0.1mmUltra fine tip!
■Waterproof
■Comes off easily with warm water
■Stands up to sebum and rubbing
■Contains serum ingredients

CANMAKE Lasting Liquid Liner
New Color
04 Cacao Brown:A versatile dark brown that's bolder than brown, but softer than black.
02 Bitter Choco Brown:A bitter brown with a hint of black.Offers a gentler look than black eyeliner.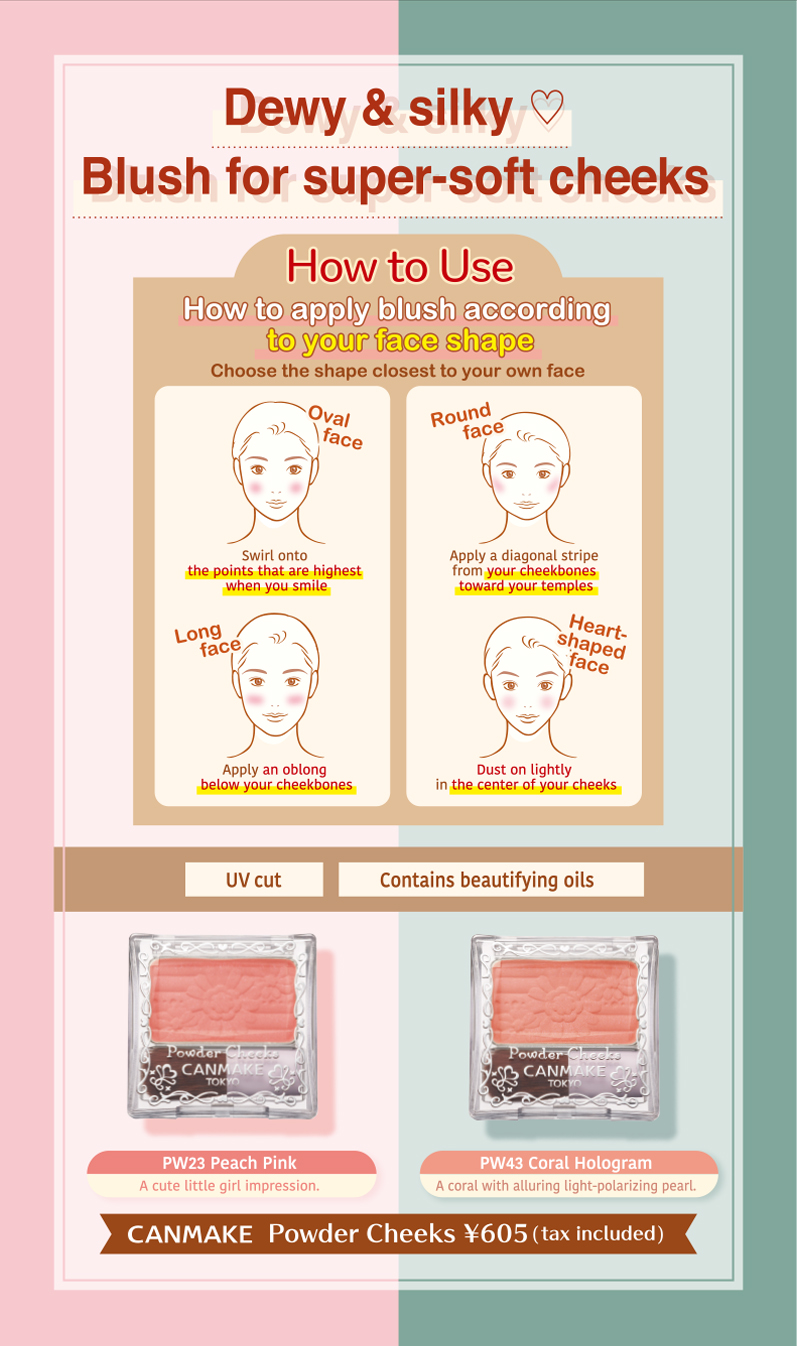 Dewy & silky ❤
Blush for super-soft cheeks.

~How to Use~
How to apply blush according to your face shape.
Choose the shape closest to your own face.

♡Oval face
Swirl onto the points that are highest when you smile.

♡Long face
Apply an oblong below your cheekbones.

♡Round face
Apply a diagonal stripe from your cheekbones toward your temples.

♡Heart-shaped face
Dust on lightly in the center of your cheeks.

■UVcut
■Contains beautifying oils

CANMAKE Powder Cheeks

PW23 Peach Pink: A cute little girl impression.
PW43 Coral Hologram: A coral with alluring light-polarizing pearl.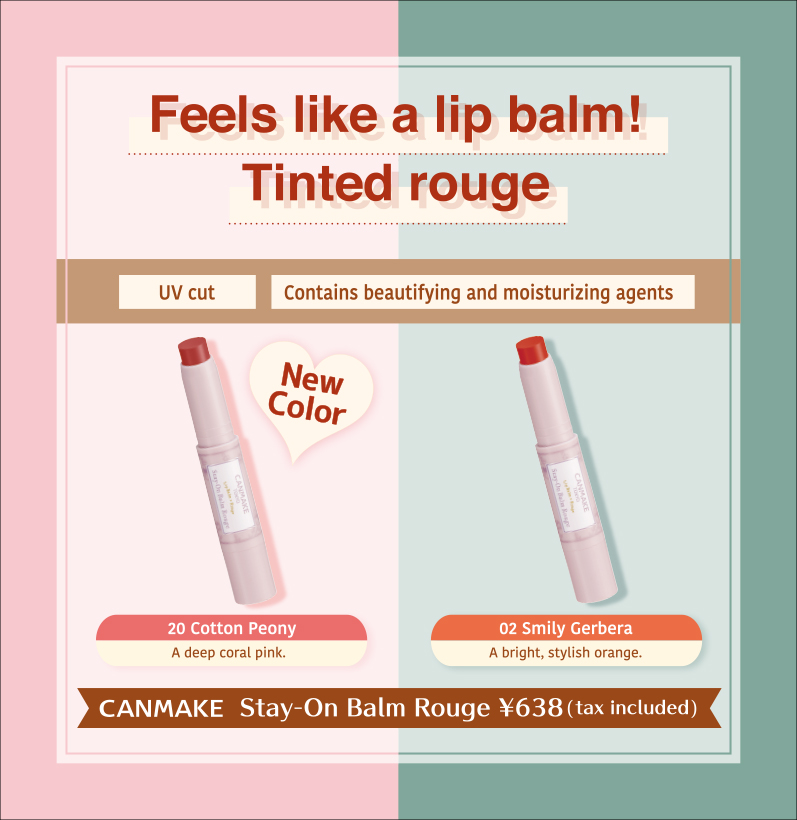 Feels like a lipbalm!
Tinted rouge.

■UVcut
■Contains Beautifying and moisturizing agents

CANMAKE Stay-On Balm Rouge

New Color
20 Cotton Peony: A deep coral pink.
02 Smily Gerbera: A bright, stylish orange.

Debut Make up
Juicy Pure Eyes11,Powder CheeksPW23,Stay-On Balm Rouge20,Perfect Airy Eyebrow03,Lasting Liquid Liner04,Quick Lash CurlerBK,Creamy Foundation Stick03,Marshmallow Finish PowderML,Cream Highlighter01,Glow Twin Color01,Foundation Colors01
Second Make up
Juicy Pure Eyes06,Powder CheeksPW43,Stay-On Balm Rouge02,Perfect Airy Eyebrow03,Lasting Liquid Liner02,Quick Lash Curler Long Mascara02,Creamy Foundation Stick03,Transparent Finish PowderSB,HighlighterL01,Shading Powder03,Foundation Colors01