日本著名精品百貨限量品 - PLAZA 獨家販售品
CANMAKE 總公司特別授權 美國專利販售品❤️
【強力推薦 爆量銷售❤️太好用了 HIGHLY RECOMMAND】
2020 限定新創作 Just arrived !! 可打造出立體雙眼皮!短毛輕鬆勾畫纖幼內眼線
激纖細短毛掃頭 解決手震煩惱

激纖細掃頭優點
- 能緊貼睫毛根部畫出纖幼線條
- 激纖幼的眼線不會令收窄雙眼皮
- 輕鬆填補睫毛間的空隙

短掃頭優點
- 穩定性較高 讓你畫眼線時不會手震
- 新手能逐少畫上 方便調整修正

防水防油防揉擦

No.01 Black黑色:助你強調眼部輪廓
No.02 Brown啡色:柔和地塑造眼部輪廓
The No. 1 fine eyeliner 史上極細眼線筆 in CANMAKE History
CANMAKE Slim Liquid Eyeliner 歷史上最優秀的產品
[01]Black Limited Color
[02]Brown Limited Color
初學著也可輕鬆運用的這款眼線筆來打造一對迷人大眼,今年流行乾淨俐落的眼神, 即可隨時放電!對抗熊貓眼,
「不暈染」,「防汗」、「防水」、,同時擁有絕佳服貼度,
這次 CANMAKE 發行新創作也是日本史上最強工藝精心設計【史上極細筆尖】眼線筆、
【史上極細筆尖】的毛筆設計甚至可以寫字在米粒上,更重要筆頭柔軟有彈性,非常好操控,不容易失手,內眼線也非常好描繪
美容保濕成分,讓眼線液更滑順。絕對是選擇眼線產品的首要條件。用過直接被圈粉~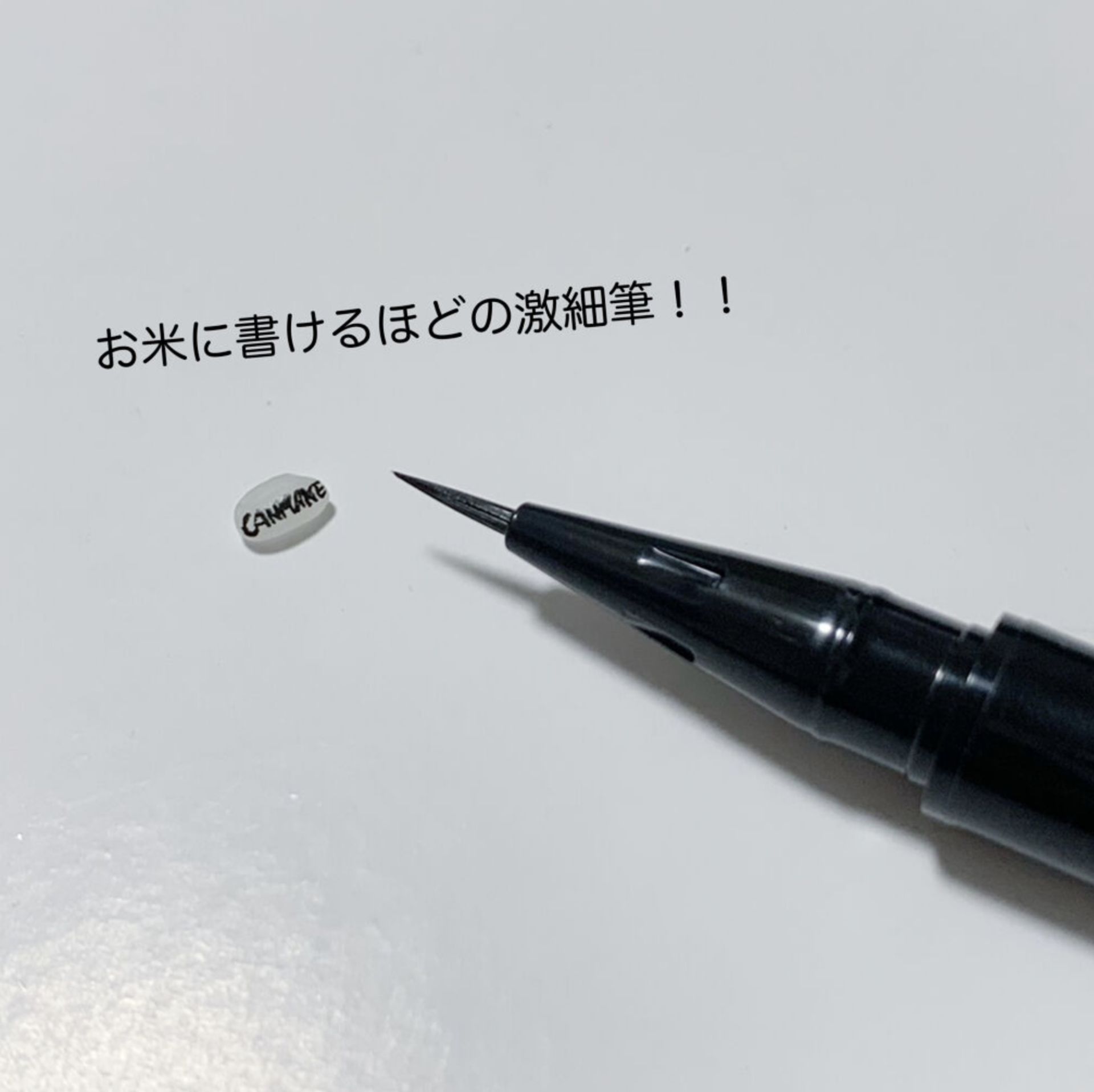 以下是一般市面極細筆尖, 很明顯看出筆尖的差異!CANMAKE 這次真的研發出史上極細眼線筆
Brown gently sharpens up the contours of your eyes.
Black crisply sharpens up the contours of your eyes.
New cosmetics information has arrived from CANMAKE! The "Slim Liquid Eyeliner", which has the finest line in the history of Canmake with a brush tip length of 6.5 mm and can emphasize the eyes firmly even though it is natural, will be released in advance from mid-December only for PLAZA and MINiPLA in japan
Eyeliner with an ultra-slim short brush to combat shaky hands
This liquid eyeliner's key feature is its short, slim brush!
Drawing fine lines along the edge of your lashes is simple.
Enables you to draw hyper-slim lines that won't make double-fold eyelids look narrow.
Gives greater stability, so you can draw lines without your hand shaking.
Draw a little at a time, for easier line adjustments.
The Super slim- brush has a sense of stability, is hard to shake, and is recommended for those who are not good at drawing eyeliner and those who are new to makeup.