A buttery-soft rouge that moisturizes lips and melts hearts. CANMAKE 絲滑透亮唇膏
Autumn color lips now on sale!
高島獨家販售中!質地柔軟、滑順的保濕唇膏、化於唇上的唇膏
● 唇膏體與體溫相似,抹於雙唇即化開的質地 ● 滑順質地,即使雙唇乾燥脫皮也適用,輕盈不黏膩,可多層塗抹 ● 輕盈質地,脫層塗抹後雙唇也不感厚重,適合補妝 
時髦的亮澤感X美麗的色澤 ● 含高亮度油脂,雙唇呈現時髦的光澤感 
● 不過分閃耀,也不過分低調,能修飾唇色的色澤,提亮膚色,使整體妝容更美麗
● 持久顏色與光澤(不含染料) ● 保濕成分預防乾燥 (不含香料) ●預防水分流失,緊緊鎖住雙唇水分,維持雙唇豐潤飽滿   
※請注意以下※  ●避開高溫潮濕處,避免直接曝曬於日光 ●唇膏與口紅管接觸時可能會斷裂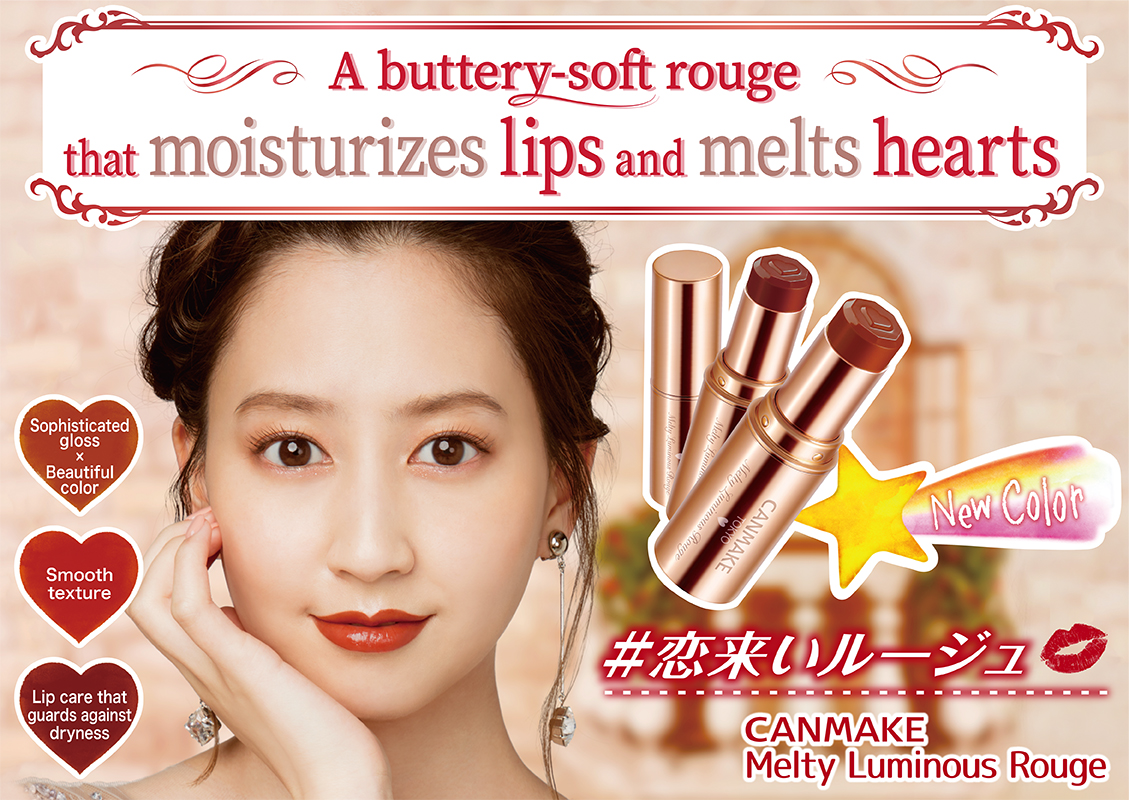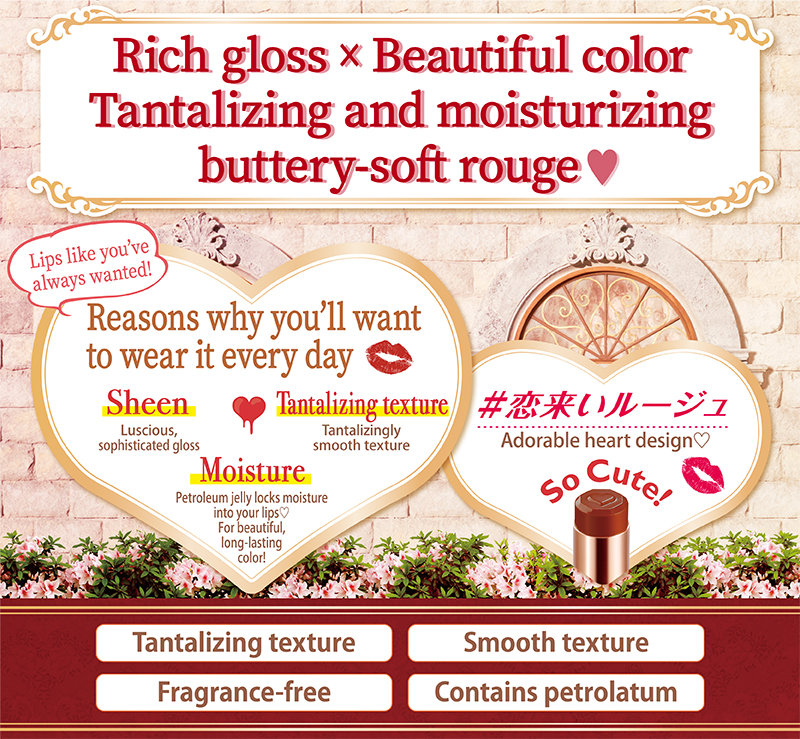 Rich gloss × Beautiful color Tantalizing and moisturizing buttery-soft rouge ♡
Lips like you've always wanted! Reasons why you'll want to wear it every day 
❤Sheen
Luscious, sophisticated gloss. 
❤Tantalizing texture
Tantalizingly smooth texture 
❤Moisture
Petroleum jelly locks moisture into your lips ♡
For beautiful, long-lasting color!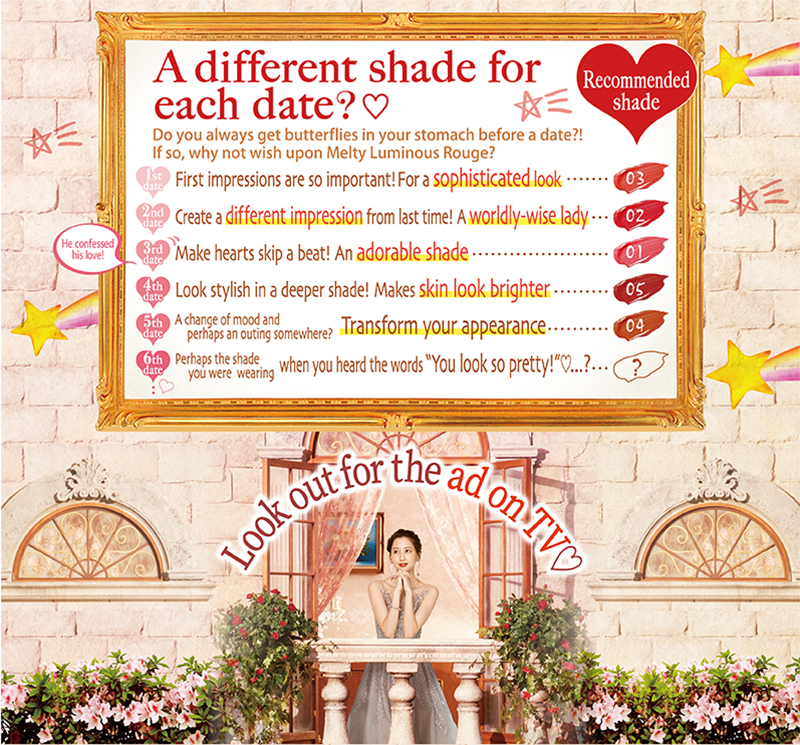 ♡A different shade for each date? ♡Do you always get butterflies in your stomach before a date?!
If so, why not wish upon Melty Luminous Rouge? 

↓Recommended shade↓
◆1st date
First impressions are so important! For a sophisticated look.....03
◆2nd date
Create a different impression from last time! A worldly-wise lady.....02
◆3rd date
Make hearts skip a beat! An adorable shade.....01
◆4th date
Look stylish in a deeper shade! Makes skin look brighter.....05
◆5th date
A change of mood and perhaps an outing somewhere? Transform your appearance.....04
◆6th date
Perhaps the shade you were  wearing when you heard the words "You look so pretty!"♡...?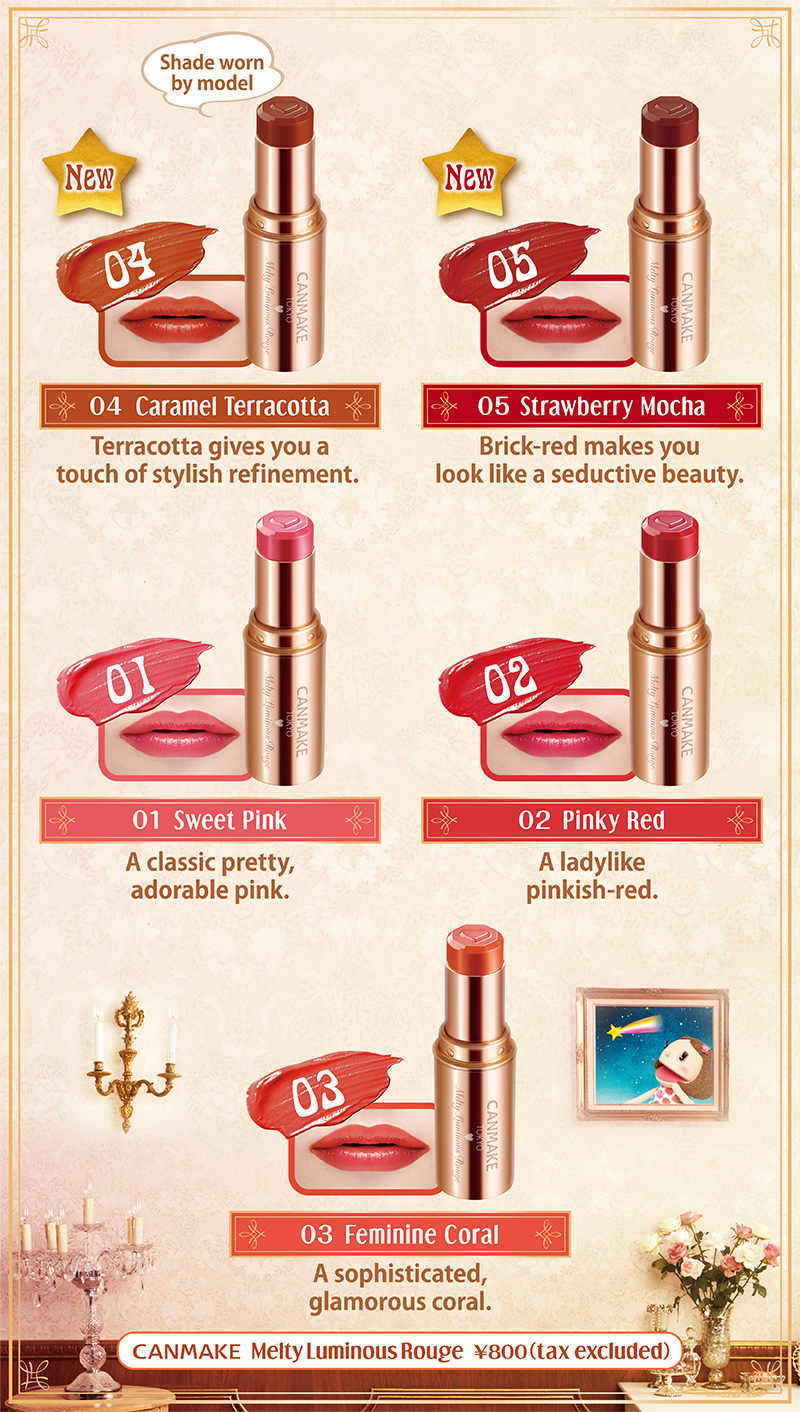 CANMAKE
Melty Luminous Rouge 
04 Caramel Terracotta ◆NEW◆
Terracotta gives you a touch of stylish refinement. 

05 Strawberry Mocha ◆NEW◆
Brick-red makes you look like a seductive beauty.
01 Sweet Pink
A classic pretty, adorable pink.
02 Pinky Red
A ladylike pinkish-red.
03 Feminine Coral
A sophisticated, glamorous coral.

Melty Luminous Rouge 04 
3in1 Eyebrow 01
Color Change Eyebrow 03
Lasting Multi Eyebase WP 01
Juicy Pure Eyes 11
Quick Lash Curler BR
Creamy Touch Liner 02
Marshmallow Finish Powder MO
Cream Cheek 17